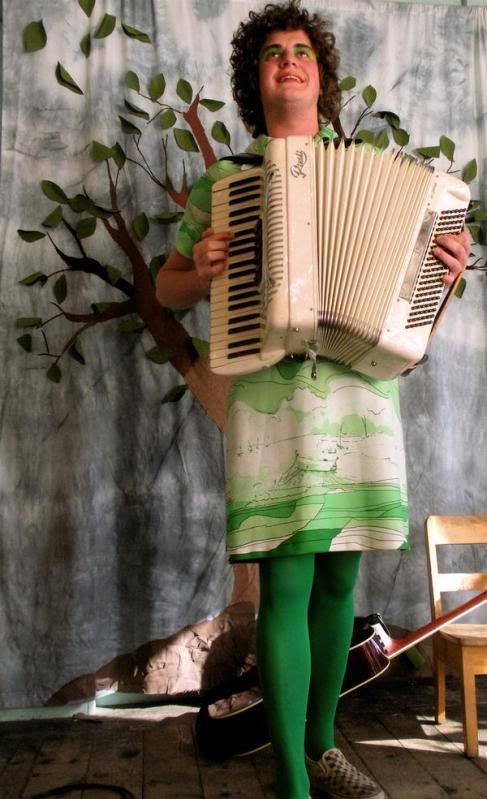 The first time I saw
Dave End
perform, I was literally astounded. I may be misremembering, but I think he only played a half-hour set, and yet he jammed in a full program of songs (although he has said
Ani Difranco
is an influence, he has a punk-rock-ish tendency to keep his songs under 2 minutes) along with a heaping helping of hilarious, ingratiating banter, into the brief time. A tremendous showman and a heck of a songwriter; I would normally be jealous, if I wasn't so happy just to watch him do what he does.
He is also a willing member of the Mutual Appreciation Society: he dug the
No-No's
CD that I gave him upon meeting. He has also said he's a big fan of
My 3 Addictions
, especially what he described as the "essay" structure of it, which he thought was kind of similar to the way he structured
his own (extremely excellent) albums
.
Before I had an exact idea to collaborate with a bunch of people for this album, I decided I wanted to do a duet with Dave. I hadn't really written any duets since
"Nobody's Wife"
, but that didn't stop me. I took a song I wrote about a conversation I'd had with Daoud Tyler-Ameen, the bespectacled leader of
Art Sorority For Girls
, discussing the fact that I wore glasses throughout my childhood but now I am glasses-free. The song is called "Hey 2-Eyes." In the song, I turned Daoud into "they," as in the lyric: "'That never happens,' they said, when I said, 'They got better.'" In real life, it was Daoud who said that never happens, although he was far less strident about it than the "they" I created for the song.
Anyhow, I thought I would try Dave End out in the role of "They" -- giving him all the dialogue in the song credited to "They" -- and he did a marvelous job, adlibbing taunts to me during the live performance, some of which we kept for the recording (such as his cry of "Liar!" during the third verse).
During our initial rehearsals of "Hey 2-Eyes," Dave mentioned that he wanted to co-write a song about perceptions of masculinity with me. I always kept a spot earmarked for that song on the album, but circumstances -- such as Dave moving to Philly -- intervened and have prevented us (so far) from writing a song like that. Nonetheless, I think Dave's offer to co-write a song put me in the mindset of wanting to work with other writers on this album, and it led me to co-write songs with
Thomas Patrick Maguire
(a fella I already told you about
here
), with our electric guitarist John Mulcahy (also of
The Telethons
), and with
Brook Pridemore
(a fella I'll tell you about soon enough).
Anyhow, Dave: if you still want to write that song sometime, I'm still up for it.
In the meanwhile, if you'd like to hear "Hey 2-Eyes," it is streaming now from our Myspace page, at this link.