Some time back, a year or more ago, I went to a show featuring
Nan Turner
and a backing band called The One Night Stands (so named because the band line-up changes for every show, depending on who is available to play). At one point in the show, Nan sang and played a solo song on her electric guitar: "It's Different For Girls" by Joe Jackson (not Michael Jackson's father).
She even told a story about the song: she used to have the cassette tape version of the album the song is on,
I'm The Man
, and would try to emulate Joe Jackson, shouting "I'm the Nan!" She might have said something about wanting to dress up in a jacket like the one he wears in the cover shot but I might just be making that up.
It was pretty exciting for me, because not many folks I know like Joe Jackson. I came to like him as an Elvis Costello fan. You see a bunch of the folks from the same era have sounds comparable to Elvis: Graham Parker, Marshall Crenshaw, Nick Lowe, Dave Edmunds, and, of course, Joe Jackson. And I've grown to like at least some of each of these guys' songs quite a bit.
Watching Nan play "It's Different For Girls," I immediately decided to try to do a Joe Jackson cover with her. I wasn't sure how exactly, but that would work itself out. Nan loved the idea, and she stated her preference to do a song off
I'm The Man
. I offered something upbeat and silly, like "Kinda Kute." She replied, "Why don't we just do 'It's Different For Girls?' " Not my favorite JJ tune at the time, but, upon reflection, it was the choice that made the best sense.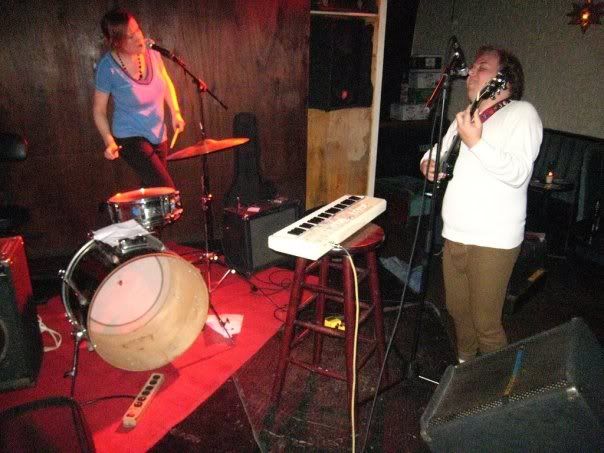 So we worked out a version where Nan played the drums and sang (kind of like she does in
Schwervon!
, although -- as you can see in the illustration -- she tried to work out a way to do it where she could stand up while playing), and I played the guitar and occasionally pretended to sing backup. (Also, as visible above, during my illustrious appearance as one of Nan's One Night Stands, I wore only long underwear.)
We played it live once this way, and then we got into the recording room at Olive Juice Music (the apartment Nan shares with her bandmate and manfriend
Major Matt
) and just did a couple takes before deciding we had created the ultimate document of our version of the song. A little sloppy, somewhat lo-fi, but full of fun energy and humor. You can hear our recording streaming from
ENB's Myspace page
.