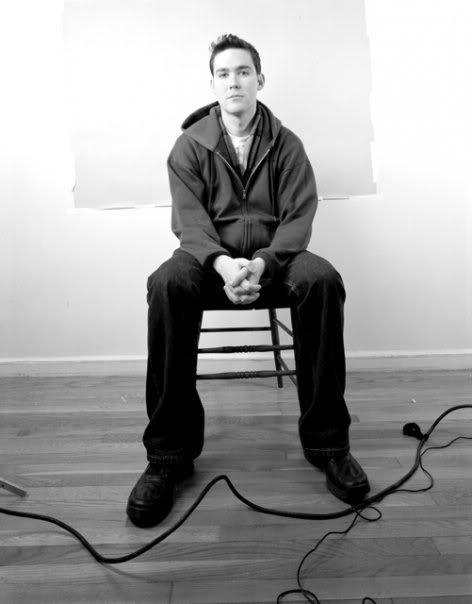 "The Congregation" by Elastic No-No Band and Thomas Patrick Maguire - free mp3
The first time I met
Thomas Patrick Maguire
was at the Anti-hootenanny open mic (now called "The Open Stage") at the
Sidewalk
. I don't remember many specific details of the night, although I do remember he gave me a copy of his first full-length CD,
Pissing Streams
. It's a great CD. Not only is it a great CD, but I found it very inspiring as both a performer and a recording artist. This is because
Pissing Streams
is ultra-lo-fi (a lot of times the drums are overmodulated and there is plenty of hiss) but it does not affect the quality of the album. The awesome songwriting and performances hold up well despite the low-budget circumstances.
Tom and I didn't immediately start hanging out after that, but at some point, we started going to movies in Queens (where Tom is from) together -- because I am a movie addict, and because tickets are mad cheap where Tom lives.
I also wound up shooting 2 super-low-budget music videos for Tom, from his latest full-length,
A Slight Return
.
One was shot in his apartment, for the song "Unemployment Dreams":
The other was shot all around his neighborhood -- "Evening News":
Sometime last year, I had a couple of pieces of instrumental guitar that I wasn't quite sure what to do with. I thought, since I was I trying to do a bunch of collaborations, that I would try them out on Tom and see if he could come up with any words. And boy, he sure did.
For the first, more developed piece of music, he sat in my living room and started spinning lyrics about a religious fanatic inspired to murder his fellow parishioners by an insane preacher. Not at all the kind of thing I would write about, but hey -- that's why you collaborate, right? I wound up writing a couple of lines myself. The one I am most proud of -- because it seems like something out of a
Johnny Cash murder ballad
-- is this: "And the choir sang 'Hallelujah'/ But that ain't much good when my bullets cut right through ya." I also gave the song its title: "The Congregation."
Click here for lyrics and an mp3 of the song.
The other guitar bit wasn't really very developed and was more of a repetitive rhythmic thing -- which is partly what made think it would be a good choice to work on with Tom. A lot of the guitar parts for his songs have a strong rhythmic quality that is part of what makes them so entertaining.
Tom couldn't really come up with full lyrics as he sat in my living room, so I quickly recorded about 45 seconds of the guitar part on my laptop and put it on his mp3 player to take home. The next time we met up, he had composed a terse little tribute to
Omar from The Wire
, a character and a show I am completely unfamiliar with.
In the spirit of keeping it real, we recorded both songs on my laptop using Garageband -- going so far as to record "Ode To Omar" in my bathroom to get the right reverb.
I haven't talked to Tom in a little bit, but I think our next collaboration will be a new music video for a song from his new EP,
Corporation Town
. Keep an eye out for it.