Fustercluck!!!
is, in many ways, a journal of most of the musical thoughts I've had in the 2 years since the completion of
My 3 Addictions
. Most of those thoughts are new... but some of them are old, lingering thoughts that badly needed tending to. For instance, there are 5 songs on the album that are new versions of previously recorded songs -- two from an "unofficial" solo CD-R album back when I barely knew how to play the guitar (
"Hot As I Are" (2004)
and
"Something You Should Know" (2004)
) and three from our home-recorded lo-fi masterpiece,
The Very Best of Elastic No-No Band So Far
:
"Run-DMC" (2006)
,
"Let's Fuck" (2005)
, and today's topic song.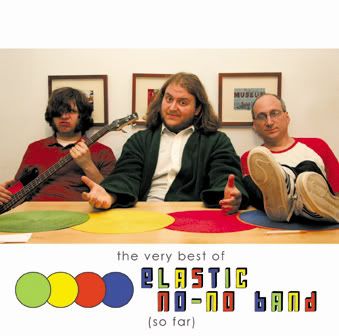 And, of course, those of you folks paying attention know that 4 of the
other
songs on
The Very Best of... So Far
were already re-recorded on
My 3 Addictions
. When I said the very best "
so far
," I meant it.
One of the main reasons to re-do the songs is that band keeps getting larger -- and
better
. It just seems weird to do a killer full-band rock version of "Run-DMC" at a live show, have a new fan come up at the merch table afterward looking for that song, and only have a stripped-down, slightly sloppy acoustic version of it to offer.
In fact,
Brook Pridemore
bugged me repeatedly to make sure to include a full-band version of "Run-DMC" on
Fustercluck!!!
, so I knew it
must
be done. (The new full-band rock version is called "(Re-) Run-DMC" to differentiate.)
Meanwhile, "Turn Out Right Rock" was actually a request from our bass player
Preston Spurlock
, partly to capture the full-band sound for posterity but mostly so that there is a recorded version in an actual key recognized by Western music theory.
You see, the original version of
"Turn Out Right" (2004)
was done in a kind of marathon session where I sat in a voiceover room in the film school at New York University for a couple hours, trying desperately to play the song all the way through without too many mistakes. (It shows you how inept I was at playing the guitar that my main goal with the recording was merely completion and not transcendant artistic expression.) In the midst of pursuing this goal of just... ya know...
finishing
, I didn't even notice that the damn guitar wasn't quite in tune. The song, which is supposed to be in
D major
, instead occupies a weird land in between D and C-sharp.
When I got the full band (at the time) together to do the second version of the song,
"Turn Out Right Waltz" (2006)
(which closes out the
Very Best... So Far
CD), you would have thought I would have taken a moment to make sure I tuned my guitar. Nope. Not at all. You see, we were living fast, and times were wild. I changed the key of the song to
C major
(although, with my guitar out of tune, it's not
really
in C), I cut out one of the choruses, and I decided to shout out the last section of the song with Preston by my side. Also, we threw bourgeois convention to the wind and busted out the scariest instrument in pop music: the accordion. How could a crazed, meth-fueled* band like this possibly stop for 90 seconds just to tune my piddling guitar? Well, duh... we didn't. (
Sidenote: This is the song that I am singing at the beginning of the Waltz version
.)
Now, we're a little mellower and more focused these days, so when we attempted a new rock version of "Turn Out Right," I did actually bother to tune my guitar. We continue to leave out that chorus I cut out in 2006, and Preston and I shout out the last section of this song along with a little help from our drummer Doug Johnson. The recording is definitely in the key of D major (you can check it and everything), and -- hey -- it turned out pretty great.
Please enjoy this track from
Fustercluck!!!
:
"Turn Out Right Rock" (2009) free mp3
.
And for old times' sake, please enjoy this old video I made for the original recording of "Turn Out Right":
*The band actually was neither crazed nor meth-fueled during the recording of this song.