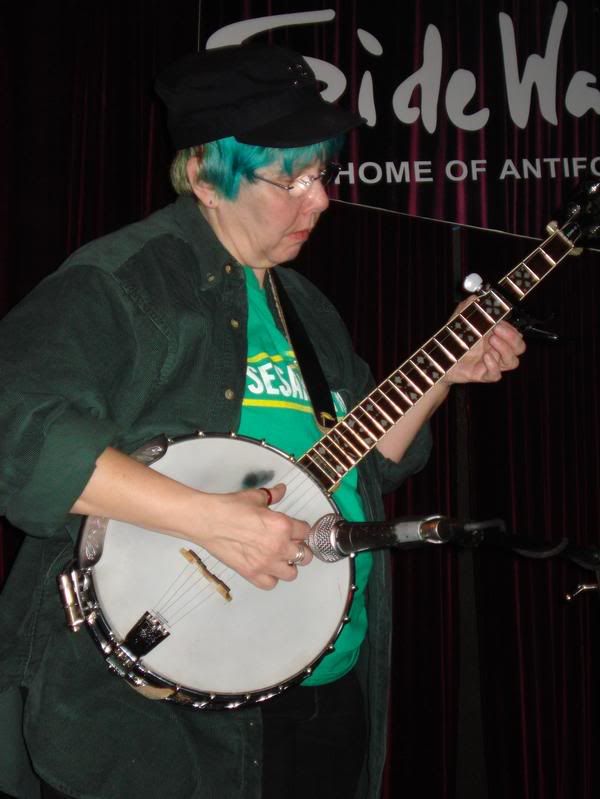 "New River Train" feat. Debe Dalton -- free mp3
Unless I am mistaken -- and I might be -- I think that (apart from producer
Major Matt Mason USA
) singer/songwriter/banjo player
Debe Dalton
is the only
collaborator
on our new album who also made an appearance on our last album,
My 3 Addictions
.
Debe is a tremendous performer and a great songwriter (you should check out her CD -- I reviewed it
here on the Elastic No-No Band Myspace blog
when it came out). And, to top it all off, she's been a big fan and supporter of Elastic No-No Band, going back to when it was just a performing name for yours truly at the
Sidewalk
Monday night Antihoot. She has said on a few occasions that she very much enjoys being a member of Elastic No-No Band, which is why I've often asked her to play on various songs in live shows and on our albums.
Debe plays on 5 songs on
Fustercluck!!!
in duets with me, most of them old folk songs. When I went on my solo tour of the US in April 2008, I brought along 4 volumes of
Pete Seeger's American Favorite Ballads
-- which is an excellent, must-hear collection. I listened to those discs a lot over the course of my month on the road (didn't have an ipod yet, ha ha), and I started to earmark some as favorites. "Go Tell Aunt Rhody," which is a song that most folks learn as kids but I'd never heard, sounded so pretty -- and simultaneously whimsical and sad -- that I wanted to do it. Seeger's version had a banjo, and I wanted to retain that, so I decided to ask Debe Dalton to do the song with me. She told me it was one of her favorite songs. We recorded it shortly after I got back from tour.
I still wanted to do more music with Debe, so I set up another longer recording session, where we knocked out 2 more of the Seeger hits ("There's A Hole In The Bucket," which I'd originally heard
in this version
as a kid and used to sing along with my mom; plus "New River Train," which you can download from the link at the top of this entry), an old children's song I rearranged called "I Bought Me A Cat" (which I first heard in the orchestral arrangement by
Aaron Copland
), and a longwinded story-song penned by yours truly called "A Boy Named Snommit" (I already wrote about that song
in this blog entry here
). When we recorded, Major Matt decided to set us up in a couple chairs in his kitchen for maximum warm room sound, and it came out sounding good (no street noise, or nothin').
I'd like to keep collaborating with Debe. One of the next things I would like to do is have the whole band play with Debe on a recording of one of her newer songs called "Just Love" (at least I think that's what it's called -- I'm sure Debe can correct me if I'm wrong).